Collaboration
Collaboration Tool
Collaborate with your colleagues via Outlook and capture important internal email discussions
Prior to sending a quote or an invoice to a customer, you often need to gather information from your colleagues, sales manager or other departments e.g.: shipping or finance. These email discussions contain important information that should become part of the CRM record for future reference or audit trail purposes.
The collaboration tool allows you to initiate an internal email session where all emails that are sent by any participant in the conversation, are captured and organized as a collaboration log inside the related CRM record. The log is presented inside FrontEnd as well as in the CRM record.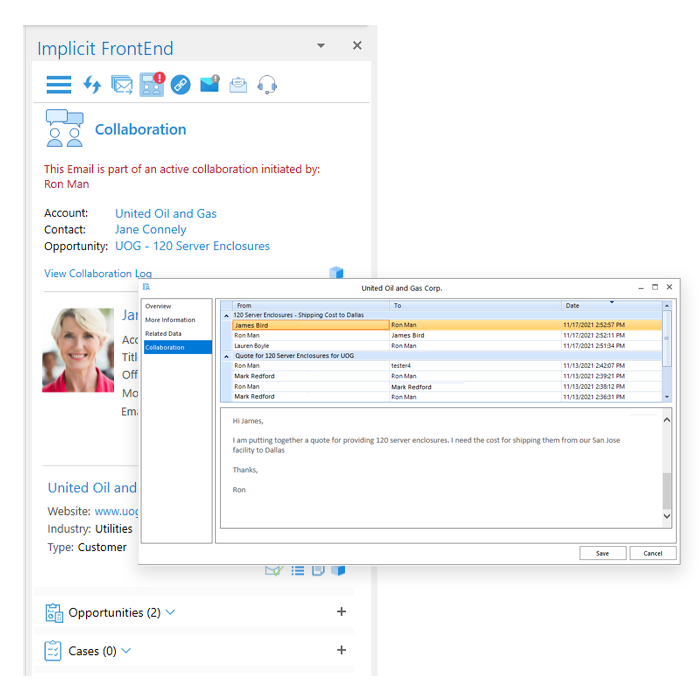 Approval
Approval Tool
Request approval via Outlook, capture correspondence and generate approval log
Often, you need to obtain your sales manager's approval before taking an action such as offering a discount or sending a quote to a customer. The approval tool allows you to request approval via Outlook, capture all email correspondence with your sales manager or designated approvers, and generate an approval log inside the related CRM record.
The approval log is presented inside FrontEnd as well as in the CRM record. It includes a detailed log of the email conversation, including when and by whom the request was approved or declined.
The approval process is seamlessly integrated into Outlook such that from users' perspective, they are simply using Outlook to communicate.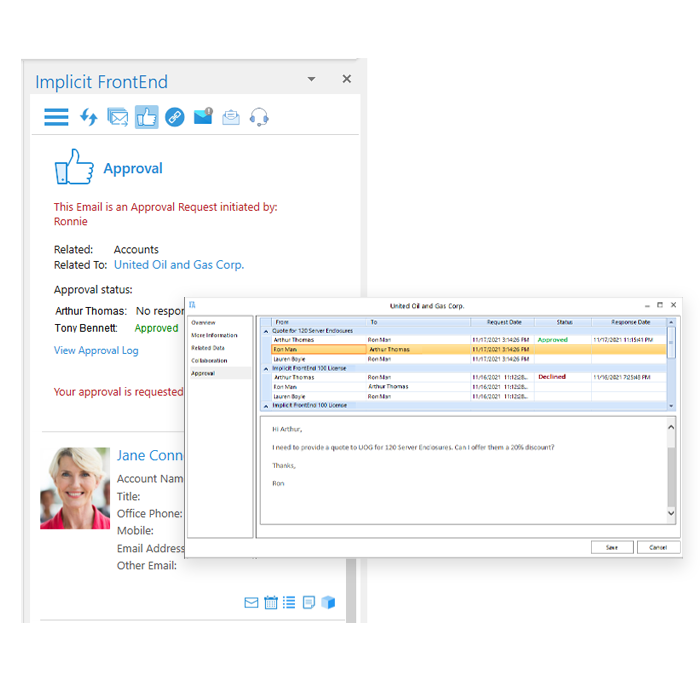 Collaboration / Approval Log
Complete audit trail of email correspondence and approval status in CRM and in FrontEnd
The approval log is created in the related CRM record. Each CRM records may contain multiple threads of collaboration or approval. The log is accessible via FrontEnd and via the CRM.
In FrontEnd, the log is presented as a sequential list of emails indicating when an approval request was made, when it was approved or declined and the actual response of each approver.
In the CRM, in addition to the list of emails, a continuous log is created in a simple, concise form, contain the text content of each email in the conversation. The log is designed to allow a quick review of the email exchange.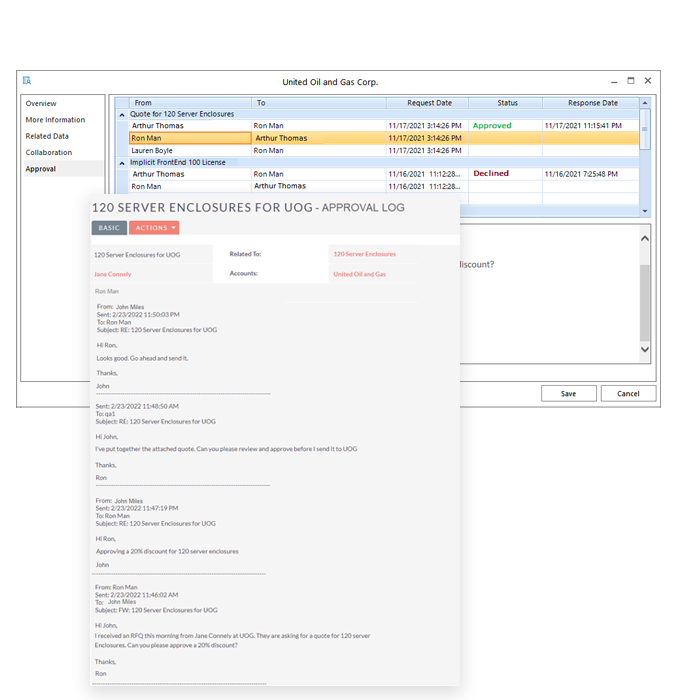 Schedule an appointment with us to
discuss your requirements and see
the system in action